Drift Boat Hulls
For 40 years, ClackaCraft has been building the most reputable and durable drift boat hulls in the industry. We know how important it is to have the right tool for the job, which is why we've developed and perfected the widest range of hull designs available. From our stealthy HeadHunter to our wave-busting Old School High side, ClackaCraft has a hull guaranteed to optimize your time on the water.
Factors such as side height, beam, length, rocker profile, foot print, and interior layout all determine a boat's performance characteristics and capabilities. If you have any questions, our experienced and helpful sales team can help guide you into the perfect boat for how and where you fish.
Eddy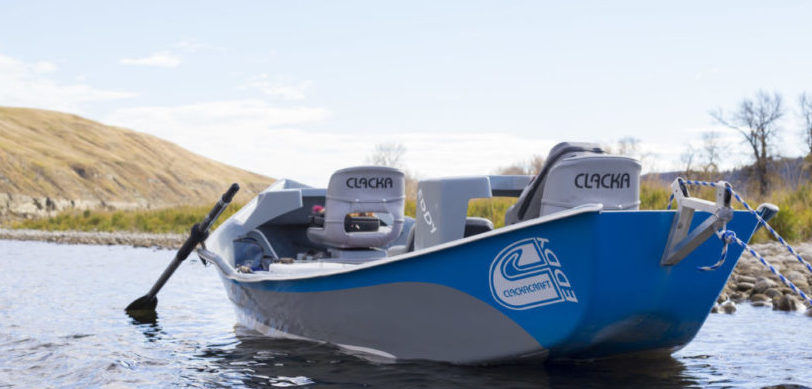 Quick and maneuverable with exceptional holding ability, the Eddy has quickly become a favorite among guides in the intermountain west and beyond. Adapted from our widely popular 16' LP hull, the Eddy's wider transom improves back-end weight capacity and back-rowing, while its larger chine radius slides across seams and crabs like a dream.
Exceptional holding
Low sides to stay under the wind
Wide chine radius for exceptional crabbing and seam transition.
SPECIFICATIONS
Gunwales
17′ 6″
Bottom Width
56″
Centerline
15′ 11″
Side Height
19″
Beam
78″
Weight
Approx. 260
Oar Lock Height
23″
Motor
3-6 hp
16′ Big Eddy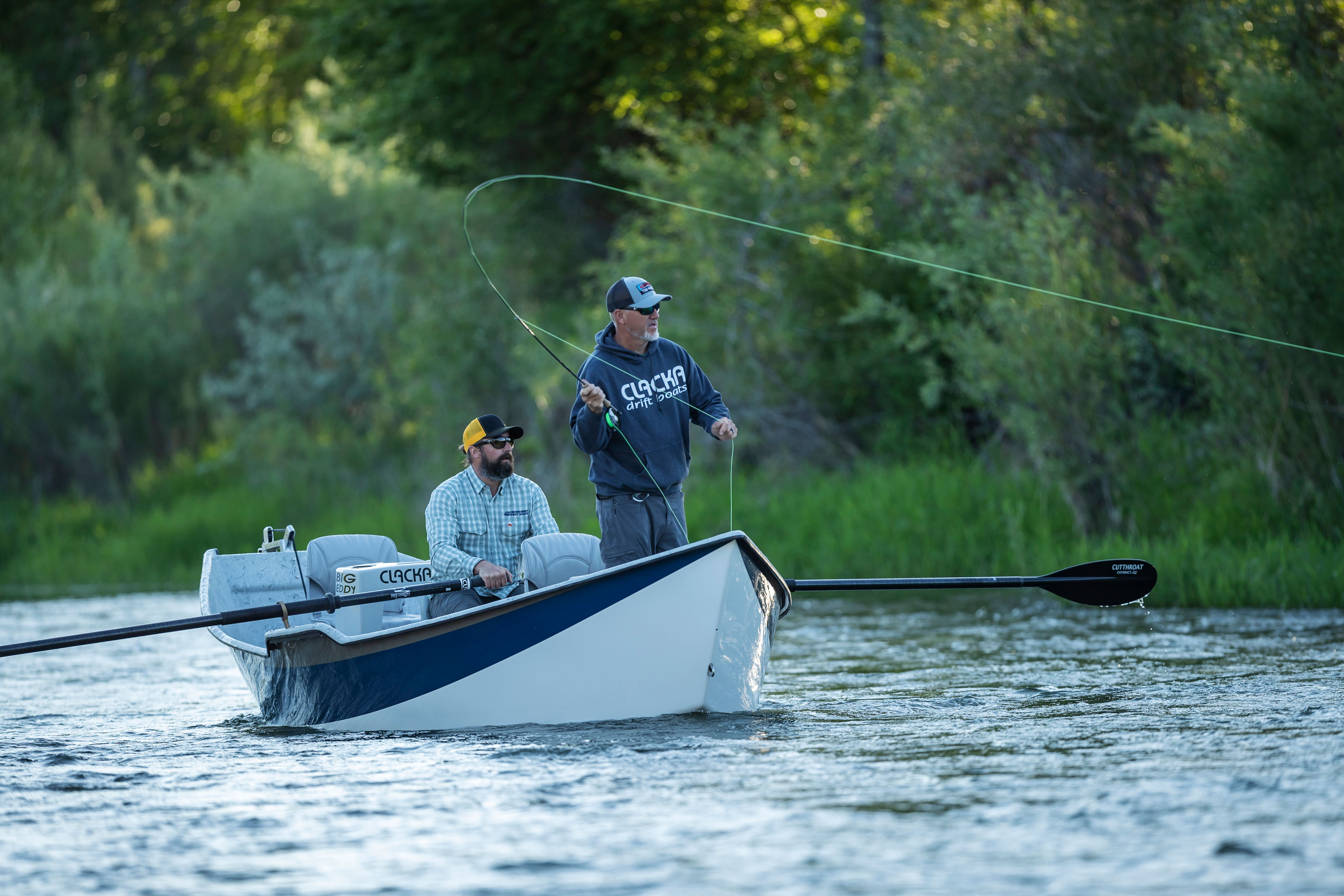 The Big Eddy is finally here to chase coastal steelhead and push right through those big wave trains during spring runoff. In 2012, the 16′ Eddy was introduced and quickly became our most popular boat and the standard to which all other drift boats are compared. We love rowing the agile ClackaCraft Eddy and wanted a higher-sided version to take on some bigger whitewater. The Big Eddy has the same bottom dimensions, softer chine radius, and wider back end that make the original 16′ Eddy such a dream to row. We've simply raised the side height by 4″ all the way around to give a little more peace of mind on the rowdiest of rivers. Sometimes, bigger is better.
Exceptional holding
24″ side height for enhanced whitewater capability
Wide chine radius for exceptional crabbing and seam transition
SPECIFICATIONS
Gunwales
17′ 10″
Bottom Width
56″
Centerline
16′ 6″
Side Height
24″
Beam
82″
Weight
Approx. 285
Oar Lock Height
26″
Motor
3-6 H.P.
16′ Standard Side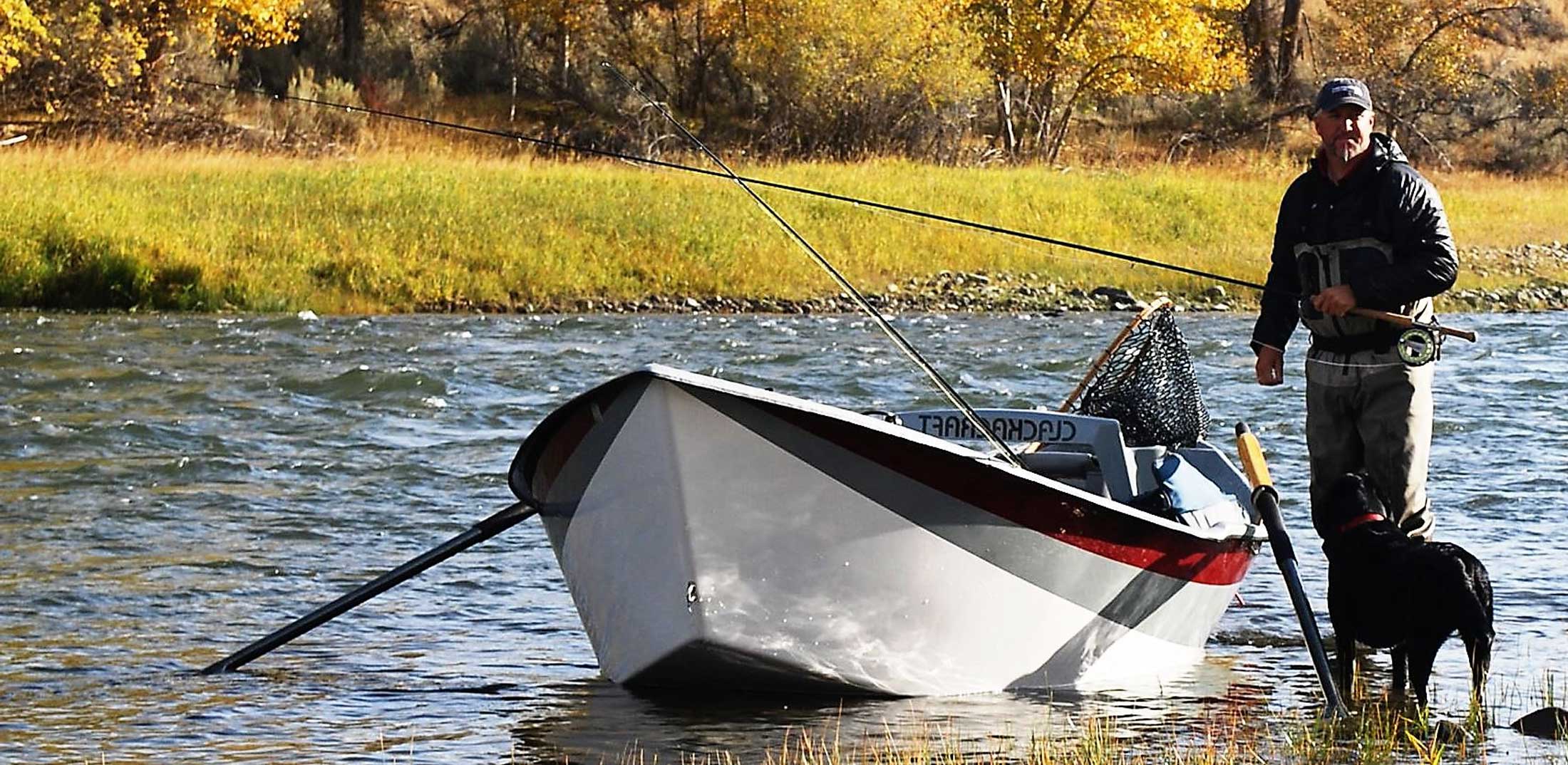 Our most versatile hull, the "tried and true" 16' Standard-Side can do it all. The 23" sides and 57" bottom width provide excellent stability and security in rough water while handling substantially better than most McKenzie-style drift boats.
Ultimate versatility
Extremely stable
SPECIFICATIONS
Gunwales
17′ 4″
Bottom Width
57″
Centerline
15′ 10″
Side Height
23″
Beam
83″
Weight
Approx. 285
Oar Lock Height
25″
Motor
3-10 hp
16′ Low Profile
The hull by which all others are measured, the 16'LP continues to set the standard for how a drift boat should row. Popularized in the intermountain west, this boat is now commonly found from the Yakima to the Delaware and everywhere in between.
Exceptional tracking
Low sides stay under the wind
Maximum angler separation
SPECIFICATIONS
Gunwales
18′
Bottom Width
56″
Centerline
16′ 5″
Side Height
19″
Beam
78″
Weight
Approx. 270
Oar Lock Height
23″
Motor
3-6 hp
18′ ClackaMAX
Large and in charge while maintaining exceptional rowing characteristics, the MAX has developed a loyal following on a surprisingly wide variety of rivers. Redesigned for 2017, the MAX features a taller transom for improved white water performance and increased width for even more stability
Unmatched load capacity
Highly modular seating configurations
Exceptional stability and tracking
SPECIFICATIONS
Gunwales
19′ 9″
Bottom Width
60″
Centerline
18′ 3″
Side Height
25″
Beam
85″
Weight
Approx. 450
Oar Lock Height
25″
Motor
10 hp
HeadHunter Skiff II 360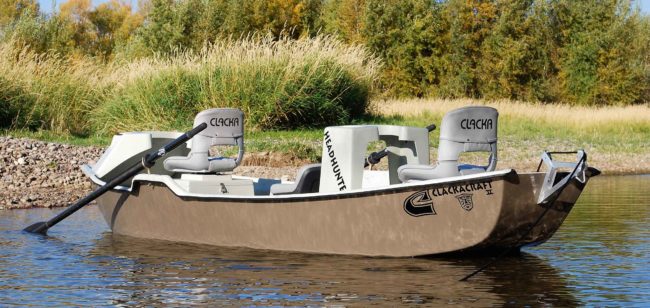 Perhaps the best rowing drift boat on the planet, the HeadHunter is in a league of it's own amongst skiffs. With minimal draft and ultra-low sides, the Headhunter can go where other boats can't. If the fish you chase live in skinny, tight, windy areas, this is your boat.
Exceptional holding
Ultra low sides stay under the wind
Unmatched shallow water performance
SPECIFICATIONS
Gunwales
Bottom Width
55″
Centerline
15′
Side Height
17″
Beam
69″
Weight
Approx. 200
Oar Lock Height
19″
Motor
3-6 hp
17′ Magnum Power Drifter
The 17-foot Magnum is the newest boat being produced by Clackacraft. It's a combination Power and Drift boat, commonly referred to in the industry as a "Power Drifter." Power upriver to a spot and then jump on the oars to stealthily slide the boat into the desired location. And after you drift through, power back upriver to make another drift.
SPECIFICATIONS
Centerline
17′
Bottom Width
54″
Beam
78″
Motor
35-40 hp Jet
Weight
Approx. 600
16′ High Side
Attention white water enthusiasts: after numerous requests for an ultra high sided boat, we are pleased to introduce the Old School High Side. By adding 7" of additional side height to our popular 16' Standard Side hull, this boat has the side height to handle the toughest whitewater scenarios.
SPECIFICATIONS
Gunwales
17′ 8″
Bottom Width
57″
Centerline
16′ 3″
Side Height
30″
Beam
85.5″
Weight
Approx. 335
Oar Lock Height
32″
Motor
3-10 hp
Other Drift Boat Models