100 YEAR GUARANTEE
Since 1977, ClackaCraft has built fiberglass drift boats of the highest quality. Every phase of construction undergoes extensive inspection to ensure that the finished product is unequaled in the industry. ClackaCraft hulls are entirely hand laid for maximum strength and long life. All components and hardware are selected for durability and long-term performance. We have so much confidence in our manufacturing process that we provide, for the original owner, a 100-year guarantee against punctures and leaks on the hull of all ClackaCraft Drift Boats.
It's only natural to have the best warranty in the business when you manufacture the best drift boat in the industry.
ClackaCraft's Gulfstream Bottom
Clackacraft's Gulfstream® Bottom, Tunnel Hull®, and Tracking Channels provide the finest-handling boat available.
Why do we love dimples? Indeed it's no accident that both a major European automaker and a power boat manufacturer have introduced dimpled bottoms or undercarriages on their most recent models. Of course, there's also the tried and true modern golf ball, the pocked surface of which has been the industry standard since Herbert Hoover held office.
As a recognized leader in the research and development of drift boat technology and as an avowed enemy of "drag" (exemplified by the unparalleled performance attained by our breakthrough tunnel hull design), we simply had to investigate the buzz behind dimples. Here's what we found: the laminar flow past a smooth surface produces more pressure and resistance than the turbulent flow past a textured or dimpled surface.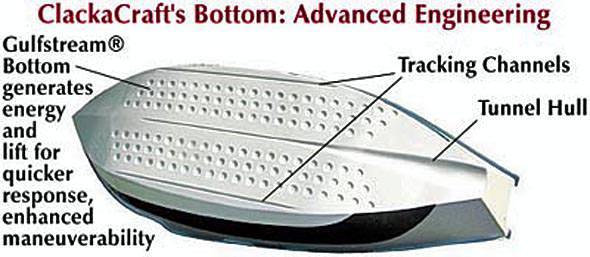 What is GulfStream®?
At ClackaCraft we've not only embraced the dynamics of dimples – we've coined a term for the physics involved. We call this standout phenomenon GulfStream®, the multi-dimpled charms of which will now proudly distinguish the hulls in our ever-evolving line of drift boats. In essence, as with properly engineered golf balls, our boats are designed to soar farther, faster, and true, and do it with less effort.
Tunnel Hull®
ClackaCraft has a computer-designed tunnel that has been a major advancement in drift boat design. The tunnel hull was such a tremendous success we incorporated the tunnel in our 15′, 16′ and 17′ models. This prompted us to take the next step – an elongated tunnel, along with side water tracking channels to the left and right act as reverse keels. These channels direct the water straight, keeping the boat in line, without the liability of a square chine.